Why is Lung Health Important?
Imagine a huge sky in front of you, the fresh morning air filling your lungs as you inhale deeply. The gift of effortless and unrestricted breathing is one that is sometimes taken for granted, yet the significance of lung health cannot be emphasized. Your lungs, those resilient and vital organs nestled within your chest, play a paramount role in your overall well-being.
Vital Oxygenation: Strong lungs guarantee adequate oxygen absorption and effective carbon dioxide expulsion.
Support for the Immune System: Strong lungs serve as a barrier, filtering out dangerous substances and bacteria to stop respiratory infections.
Deep breathing encourages relaxation, reduces tension, and improves general mental and emotional well-being.
Lung health is important for both longevity and quality of life since it encourages an active lifestyle.
Protection Against Respiratory Diseases: Keeping your lungs healthy lowers your risk of developing respiratory illnesses like lung cancer, COPD, and asthma.
Facts About Lungs
Some of the interesting facts about the lungs are:
An average human processes around 11,000 liters of air every day during rest.
It is a little-known fact that one lung is enough for a human to survive.
An average healthy adult breathes approximately 12-16 times per minute.
Lungs are the only organs in the human body that float
A typical adult has 300 million to 500 million alveoli, which are tiny air sacs in the lungs responsible for gas exchange.
Smoking tobacco is the leading risk factor for lung cancer and other lung-related issues. Passive smoking can increase the risk of lung cancer, coronary artery disease, and stroke.
Reasons Why Your Lungs May Not Be Healthy
Smoking or consumption of tobacco in any form is considered to be the leading preventable cause of death across most parts of the world. Smoking increases health risks including enhanced vulnerability to Covid-19. Apart from this, it is also one of the comorbidities that are the cause of the overall deterioration of health regardless of age or geographical demographic. Within ten seconds of inhaling the first puff of cigarette smoke, the toxic chemicals in tobacco smoke reach one's brain, heart, and other organs. Any smoker's test reveals that tobacco smoke by itself contains seventy carcinogens (also known as chemicals that cause cancer).
Effects of Smoking on Lungs
A lung checkup indicates that smoking harms almost every part of the human body and increases the risk of several illnesses. Despite it being so harmful, it is also highly addictive as the nicotine in cigarettes releases a chemical known as dopamine in one's brain. It helps one focus, energizes the system, and creates a feeling of euphoria.
Dopamine is typically known as the achievement chemical and is responsible for people feeling good about themselves after an accomplishment. However, this feeling does not last long and as the nicotine levels drop in the bloodstream, one starts to experience what is commonly known as 'withdrawal symptoms'. The longer one has been smoking, the more dopamine is needed to retain that feeling. The addiction to smoking is dependent on two factors ' nicotine dependence and nicotine withdrawal. Any lung health screening test for smokers depicts that.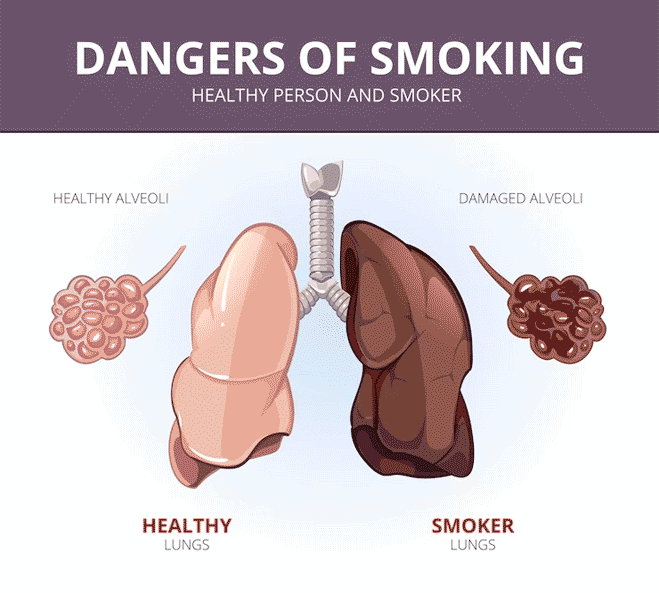 Some of the visible ill effects of smoking for a prolonged duration are:
LDL - Bad Cholesterol
Bad Dental Hygiene
Prematurely Aging Skin (wrinkles, age spots, discoloration, etc.)
Decreased Desire for Food and General Loss of Appetite
Erectile Dysfunction and Infertility.
Reduced lung function and capacity
Increased risk of lung cancer
Chronic bronchitis and emphysema
Persistent coughing, wheezing, and shortness of breath
Slower healing of lung tissues
Apart from this, cigarette smoke in the lungs causes ailments like cough, cold, and asthma, which are considered to be the weak lungs symptoms and initial symptoms of lung cancer as well.